Canadian Western Mortgage Rates & Reviews
This Page's Content Was Last Updated: July 18, 2022
This Page's Interest Rates Were Last Updated:
June 9, 2023 at 10:31 PM ET
WOWA Trusted and Transparent
Canadian Western Background

Canadian Western Bank (CWB) is a publicly-traded financial institution that was founded in 1988, and is headquartered in Edmonton, Alberta. Canadian Western Bank has continued to grow its operations in both British Columbia and Ontario, as it looks to diversify away from being just an Alberta-centric bank. Canadian Western Bank hopes to have 30% of its loans being in each province, with Ontario expecting to see the most growth. Canadian Western Bank has multiple business lines and over 10 operating companies, with business lines in: personal banking, which includes mortgages, accounts, and credit cards, business banking, and wealth management. As of 2021, the firm has over 2,500 employees and has over $36 billion in assets. With the combination of both a branch network in Alberta and BC, in addition to an online banking platform, getting a CWB mortgage can happen in multiple ways.
Listed on the Toronto Stock Exchange:
TSE: CWB
Best Mortgage Rates in Canada
Canadian Western Fixed Mortgage Rates
A fixed rate Canadian Western Bank mortgage will help you to feel more comfortable taking on a larger mortgage amount, considering that your interest rate will remain the same over your term. This means that it can be easier to plan in advance for paying off your CWB mortgage, with the certainty that a fixed interest rate provides. Out of all the Canadian Western Bank mortgage rates, the 5-year fixed mortgage is the most popular, with the 3-year fixed mortgage being very popular as well. This is because people generally like not needing to renew their mortgage very often, and both of these terms allow you to have multiple years before renewing. As well, mortgage lenders like CWB are more likely to compete by offering their best mortgage rates for these products, in order to win over home buyers.
| Term | Rate | Monthly Payment |
| --- | --- | --- |
| | 5.95% | $2,547 |
| | 5.60% | $2,465 |
| | 5.50% | $2,442 |
| | 5.22% | $2,377 |
| | 5.21% | $2,374 |
The rates shown are for insured mortgages with a down payment of less than 20%. You may get a different rate if you have a low credit score or a conventional mortgage. Rates may change at any time.
Canadian Western Variable Mortgage Rates
Getting a Canadian Western Bank variable mortgage rate will give you the benefit of an interest rate that moves with the prime rate. This means that if the prime rate is to fall, your Canadian Western Bank mortgage rate will also fall. This makes variable rate mortgages a good option if you believe that interest rates during your mortgage term will be lower than they are when you get the mortgage. On the other hand, if the prime rate rises, so will your Canadian Western Bank mortgage rate. This makes a variable rate mortgage more risky to you, considering that you will have less certainty in how much interest you will pay. No matter what happens to the prime rate and your mortgage rate over your term, you will still have the same monthly payments. The only difference will be in how much of your payments go to interest and to reduce your principal balance. If rates rise, more of your mortgage payment will go to interest and less to the principal, and if it falls, more will go to the principal and less to interest.
The rates shown are for insured mortgages with a down payment of less than 20%. You may get a different rate if you have a low credit score or a conventional mortgage. Rates may change at any time.
Canadian Western Prime Rate
The Canadian Western Bank prime rate is important because it is what the bank uses to price most of its loans. This includes: Canadian Western Bank mortgages, lines of credit, commercial loans, and HELOCs. In order to come to the final Canadian Western Bank interest rate on a product, the prime rate is combined with a spread. This spread may be negative if a loan is safer and presents CWB with limited risk, such as a mortgage, or positive, if the loan is more risky and without collateral.
Current Canadian Western Prime Rate: 6.95%
Last Changed: June 8th, 2023
Canadian Western Bank Homeworks
Homeworks by Canadian Western Bank acts as a readvanceable mortgage, where you are able to consolidate your HELOC and mortgage under one product. This allows you to simplify the interest rates you are paying with the security of your home as collateral, leading to a more affordable Canadian Western Bank line of credit rate. As well, getting a mortgage and HELOC together allows you to save on costly legal and home appraisal fees, while offering you the flexibility to access funds whenever you need. Potential uses for the HELOC include:
Doing a home renovation,
Contributing to employer retirement matching programs,
Consolidating all your payments under a lower rate,
Making a big purchase, and
As an emergency fund when you need money
Canadian Western Bank History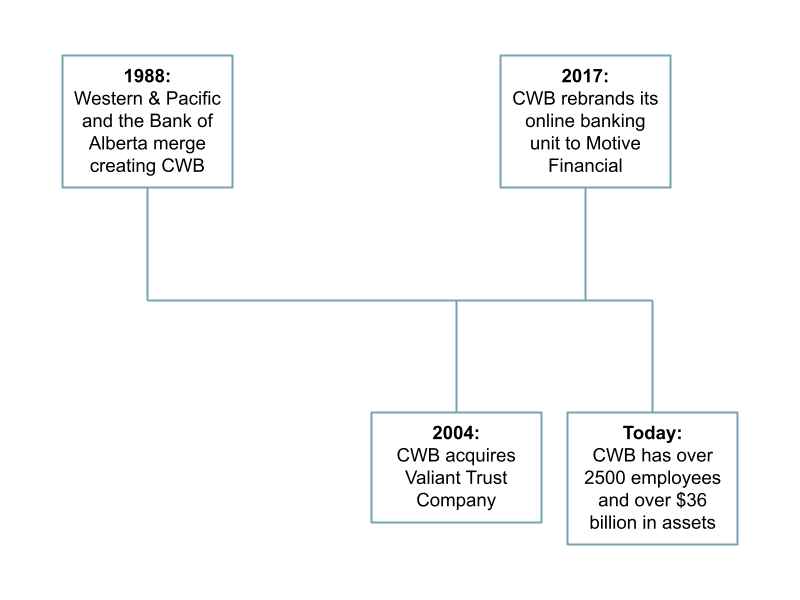 Canadian Western Bank Mortgage Break Penalty
If you decide that you are going to break your Canadian Western Bank closed mortgage before your term is up, you will likely be charged a mortgage break penalty. For open mortgages, you will not face any prepayment charges. The most common reasons for breaking a mortgage early is because you want to refinance at a better rate, are selling your property, or you have the funds and would like to pay off your mortgage in full. Canadian Western Bank will charge you the following mortgage break penalties on closed mortgages:
| | | |
| --- | --- | --- |
| | 3 Months' Interest | Greater of 3 Months' Interest or the IRD amount |
Interest Rate Differential (IRD) for Canadian Western
Calculating an IRD amount is done by finding the difference between the current Canadian Western Bank posted rate for the time remaining on your mortgage, and your current mortgage rate. From here, you will multiply this difference by the amount of time left on your term to get your mortgage break penalty.
To see how much you can expect to pay in prepayment charges, utilize the Canadian Western Bank mortgage penalty calculator below:
Canadian Western Bank Mortgage Prepayment Calculator
Canadian Western Bank Mortgage Prepayment Calculator
Are you looking to pay off your mortgage early? Or refinance the terms of your mortgage at a lower interest rate? Maybe you sold your home and purchasing a new home, in which a mortgage transfer will apply. Whatever the case, you most likely will have to pay a mortgage break penalty set by your lender. Whatever the situation, our calculator will help you determine the cost to break your mortgage so you can be confident about your mortgage decisions.
Inputs
What is the remaining balance on your mortgage?
What is the term-length and type of your current mortgage?
What is your current mortgage interest rate?
If applicable, what was the rate discount you received when you signed your current mortgage agreement?
The day you signed your mortgage, your lender may have provided you with a discount. You may be paying 3.25% but the posted rate on that day was 3.75%, a discount of 0.5%. If you are unaware of any discount, you can skip this step.
When did your current mortgage start?
Who is your current mortgage lender?
What is TD's current interest rate for a 3-year fixed rate mortgage?
We have populated this field for you with our most up to date data. For information on why we need this field see
Interest Rate Differential
Results
How is my mortgage penalty calculated?
$300,000
Remaining Mortgage Balance
3.25%
Current Mortgage Interest Rate
=
Canadian Western Bank Mortgage Features
Canadian Western Bank has many mortgage features that can be beneficial to know of when you are getting a mortgage. These features can help you pay off your mortgage sooner, avoid mortgage prepayment penalties, and cover your mortgage in the event of tragedy.
CWB prepayment allowance
Every calendar year, CWB allows you to prepay up to 20% of your original principal amount. The options you have to do this include paying 20% in a lump sum payment, increasing your monthly payments by 20%, or doubling your monthly payments. With all these options, all your payment will go towards the principal balance, which will speed up the amount of time you have a mortgage, and will reduce your lifetime interest payments.
CWB payment frequencies
Similar to other banks and lenders, Canadian Western Bank offers you the ability to choose what payment frequency matches best with your budget and income. This includes weekly, bi-weekly, and monthly payment frequency options. The more frequent you decide to set your payments, the less interest you will pay over your mortgage life. The reason for this is because you will be reducing your mortgage more often, meaning less principal balance for interest to accrue on.
Canadian Western Bank mortgage portability
If you are moving homes and want to take your current mortgage with you, while not incurring prepayment charges, the portability of a CWB mortgage is helpful. You are able to transfer your maturity date, CWB mortgage rate, and mortgage balance to a new home with no charges. Depending on how much your prepayment charges would have been, this can result in you saving thousands of dollars. If you move around often especially, this is an important feature to be aware of.
Canadian Western Bank creditor insurance
Through Canada Life, Canadian Western Bank offers you the ability to insure your mortgage in the event of death or disability. Both mortgage protection insurance coverages are add-on components, meaning that they are not required. However, getting mortgage protection insurance on your Canadian Western Bank mortgage may be a good way to give yourself peace of mind, knowing that if anything happens to you your mortgage will be covered. As well, getting mortgage protection insurance will be much easier than qualifying for individual whole or term life coverage, considering that you will only need to answer a few questions to qualify.
This calculator is provided for general information purposes only. WOWA does not guarantee the accuracy of the information shown and is not responsible for any consequence that arise from the use of the calculator and its results. Any financing products shown are subject to terms and conditions and may not be available in certain regions.