Getting the Letter of Employment for a Mortgage in Canada
WOWA Trusted and Transparent
What You Should Know
Most mortgage lenders require your employer to write details about your employment status.
The purpose is for lenders to understand your job stability and verify your application.
The letter must include things such as job title, salary, years of employment, and more.
It is very common and your HR department likely already has a template.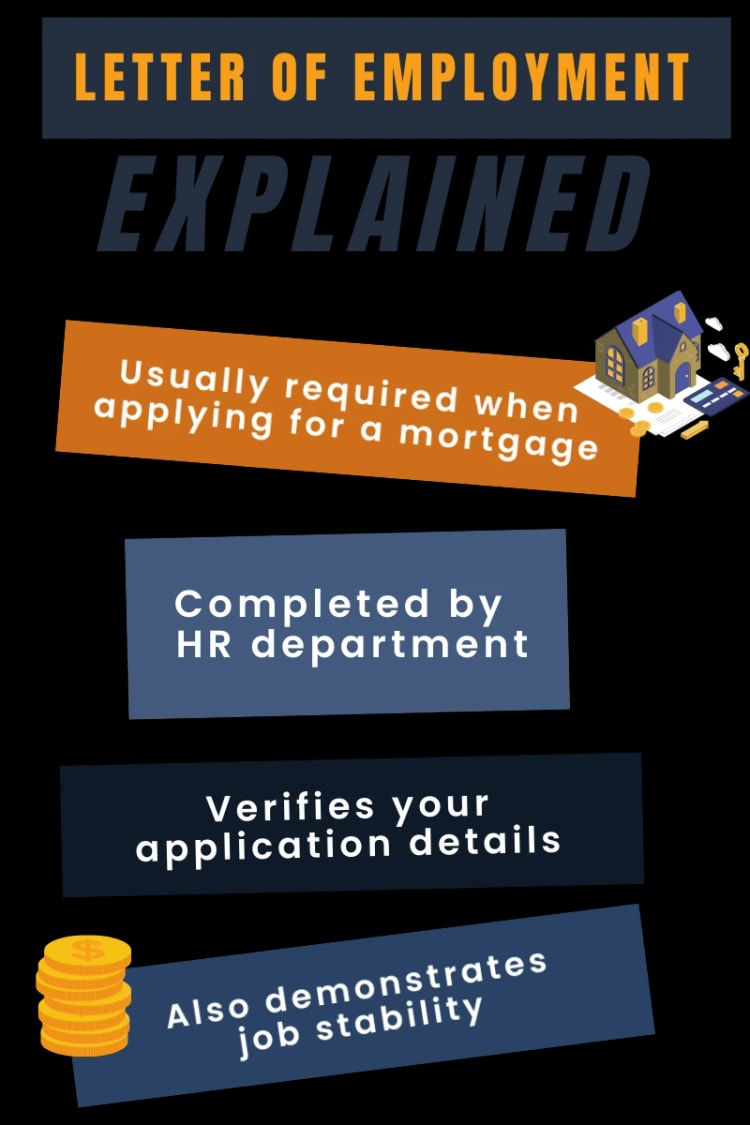 A letter of employment is one of the required documents to get a mortgage in Canada. Lenders want to ensure income stability when qualifying you for a mortgage, and this document provides essential information. In general, lenders want to see salary information, years of employment, type of employment, and more.
We have included all the types of applicable information below and the different requirements from the big six banks. The letter is quite common as most mortgage lenders in Canada require it. Most likely, the human resources department of your company can complete this for you. Otherwise, we have a template available below.
While most lenders require a job letter from your company, some lenders can verify your income through pay stubs, bank statements, or your T1 Tax return.
Best Mortgage Rates in Canada
Mortgage Job Letter Explained
You are more likely to miss mortgage payments if you are unemployed. Banks understand this and want to ensure you have a stable job when assessing your mortgage application. They generally prefer stability and predictability over a high-earning yet risky applicant. For example, mortgage lenders like to see you have spent many years with the same company and have full-time employment in a stable industry.
However, you can still receive a mortgage if you work for a startup or are self-employed. You may have a higher mortgage interest rate. Although there are information requirements listed below, self-employed applicants need to provide additional information shown further in the article.
Information Requirements for a Mortgage Job Letter
How to Get Your Job Letter Completed
The best way to get your job letter is to ask your employer. Most employers are familiar with this document and can quickly provide you with the information. However, if you work for a smaller company, you can provide a supervisor or manager with the template below. Once the letter is completed, it's best to have your company spokesperson send it directly to your mortgage representative. If you are self-employed, you can skip to the following section as the process is different.
Ensuring Your Job Letter is Accepted
Include all the required information: job title, start date, salary, employment type.
Make sure the letter is no older than 60 days. However, 30 days is preferred.
Ensure the job letter is on company letterhead and signed by an authorized representative.
Ask your employer to include a brief description of your job duties.
Sample Employment Letter for a Mortgage
[Date]
To whom it may concern,
We confirm the following details regarding the employment of [Applicant Name]:
If you have any more questions, don't hesitate to contact us at [phone number] or [email address].
Regards,
[Company Representative Signature]
[Representative Name]
[Representative Job Title]
[Company Name]
Best Mortgage Rates in Canada
What to Do if the Lender Does Not Accept Your Job Letter
If the lender does not accept your job letter, there are a few things you can do. Most likely, your mortgage lender just requires more information about your job. You can ask your employer to write a description of your job duties. You can also try another lender who has different requirements.
Job Letters for Self Employed Mortgage Applicants
If you are a business owner, entrepreneur, or freelancer, you need to apply for a self-employed mortgage in Canada. Although you will still be eligible to receive a mortgage, the process requires more documents, and your interest rate may be higher. It's also important to understand that having many deductions will lower your income, which will affect your maximum mortgage affordability. You will likely need to show the following documents:
Previous two to three years of Income tax returns.
Income statement, balance sheet, and statement of cash flows. You may be able to collateralize some of your business assets to receive a lower interest rate.
Articles of incorporation or proof of licence.
Six to twelve months of personal and business banking statements.
Contracts for future projects.
Capitalization table to show your ownership percentage.
Up to date Notice of Assessment from the Canada Revenue Agency.
Proof of GST or HST payments.
The Bottom Line
A job letter is one of the required documents to get a mortgage in Canada. The letter confirms essential information such as employment status, salary, and hours worked. Most likely, your employer can quickly provide you with this document. However, if you are self-employed, the process is different. Self-employed applicants need to provide additional information as mentioned above.
The calculators and content on this page are provided for general information purposes only. WOWA does not guarantee the accuracy of information shown and is not responsible for any consequences of the use of the calculator.