Currency Converter Canada
This Page's Content Was Last Updated: October 14, 2022
WOWA Trusted and Transparent
Popular Currency Pairs




















/

CAD
Best Mortgage Rates in Canada
About this Currency Converter
A currency converter is a tool that allows you to quickly and easily convert between different foreign currencies. To use a currency converter, you will first need to select the two currencies that you want to convert between. Once you have done this, you will need to enter the amount of money that you want to convert. The calculator will then show you the equivalent amount in the other currency. This currency converter uses current exchange rates when calculating the currency conversion.
The Big 5 Exchange Rates
The "Big 5" are Canada's 5 largest commercial banks: RBC, TD, Scotiabank, CIBC, and BMO. One way that you can convert Canadian Dollars (CAD) into a foreign currency is by using a bank. Banks will typically have a worse exchange rate compared to the actual market rate. This means that if you are buying a foreign currency, you will be paying more Canadian Dollars to receive less foreign currency. The opposite is also true if you are buying Canadian Dollars with a bank. However, banks are reliable, accessible, and easy to use.
Some banks require you to be a client in order to use the bank's currency exchange services. This means having a bank account or credit card with them. Some banks may also charge additional fees to non-clients purchasing foreign currency.
The foreign exchange (forex) rate that you see from your bank is influenced by the forex exchange spread and the type of transaction that the currency conversion is for.
The Foreign Exchange Spread: If you exchange CAD for USD and then convert it back to CAD, you will not have the same amount that you started with. Instead, a percentage of the transaction is taken out each time you exchange currencies. That's because you will be buying at a slightly higher price and selling at a slightly lower price. This is known as a foreign exchange spread.
The foreign exchange spread, also known as a bid-ask spread, is the difference between buying and selling foreign currency using CAD. The ask price is the rate at which your broker or bank is willing to sell currency, while the bid price is the rate at which they are willing to buy it from you. The mid-market rate is the price in-between the bid (buy) price and the ask (sell) price. This means that the forex spread is the amount of money that your bank or broker would make. You will be paying the forex spread when you buy and sell foreign currencies, and you will not be able to buy or sell at the mid-market rate. Instead, the mid-market rate is generally used as a benchmark.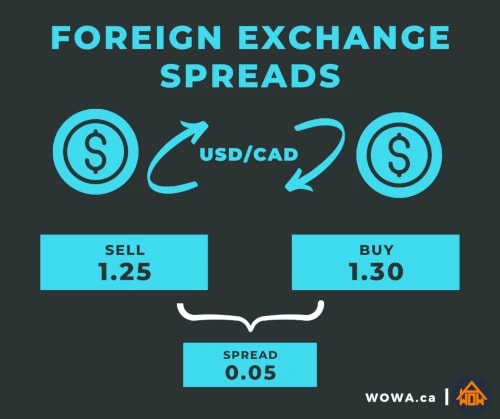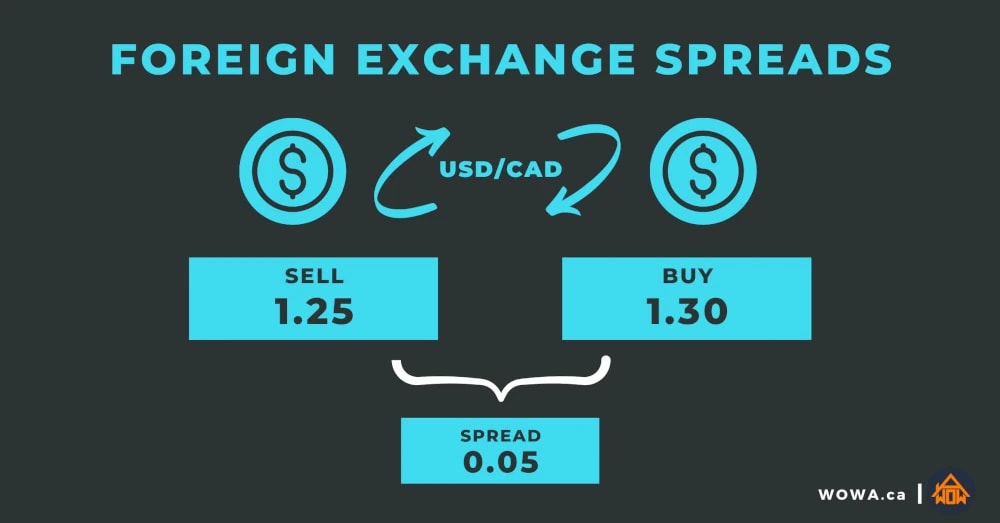 Cash vs Non-Cash: When converting currency using a bank, you can either exchange real cash or make a non-cash transaction. You can exchange real cash by walking into the branches of a bank or using an ATM. Non-cash transactions include online transfers, wire transfers, payments, and cheques in a foreign currency that needs to be converted to CAD, or when converting CAD to a foreign currency.
The foreign exchange spread will be higher for cash transactions, which means that you will get a slightly worse rate when compared to non-cash transactions. That's because converting the currency of an online transfer or cheque does not require physical cash to be exchanged, making the exchange simple. Cash transactions require physical cash to be present, which has higher costs.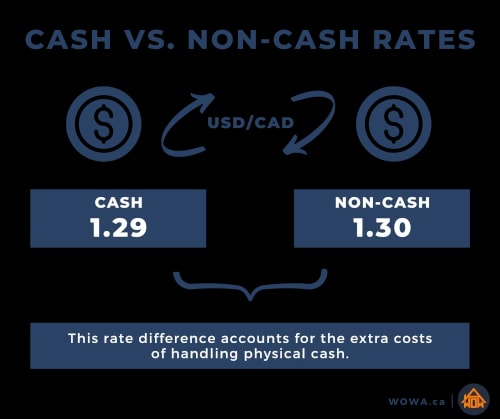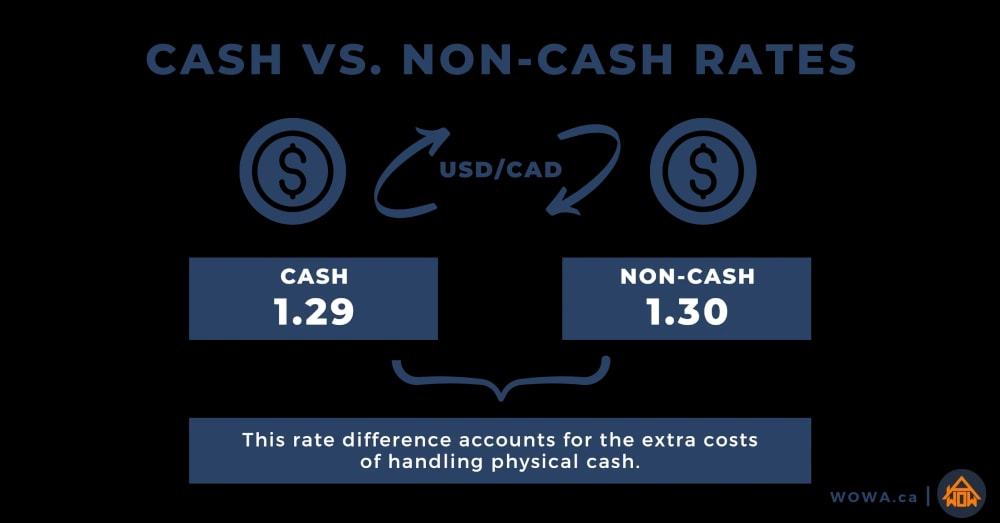 Best Mortgage Rates in Canada
Comparing Bank Exchange Rates
Each bank may have their own exchange rates. The difference between banks will change, as rates are set based on the time of the transaction and the amount of money being exchanged. The table below shows a snapshot of cash USD/CAD exchange rates for Canada's major banks on May 31, 2022.
USD/CAD Exchange Rates at Canada's Major Banks
| | |
| --- | --- |
| RBC | 1.2921* |
| TD | 1.3064 |
| Scotiabank | 1.3025 |
| BMO | 1.2997 |
| CIBC | 1.3101 |
| National Bank | 1.3030 |
*Non-cash rate
Note: A snapshot of published USD/CAD exchange rates on May 31, 2022, for the purchase of USD
In this example, the difference between BMO's USD/CAD rate of 1.2997 and CIBC's USD/CAD rate of 1.3101 is 0.8%. This means that if you were to purchase $1,000 USD from CIBC, it would cost you $1,310.10 CAD with CIBC but only $1,299.70 CAD with BMO. You would be paying $10.40 more by exchanging with CIBC than you would have at BMO's rate. This difference can quickly add up for larger transactions. However, the actual rate that applies to you will vary.
Comparing Bank Forex Spreads
Banks charge a different rate for buying and selling. The difference between these rates is the spread. The table below shows a snapshot of USD/CAD exchange rates for both buying USD using CAD and selling USD for CAD at Canada's major banks on May 31, 2022. As a comparison, the mid-market rate for USD/CAD at the time the bank rates were collected was 1.2639.
USD/CAD Exchange Rates at Canada's Major Banks
| | | | |
| --- | --- | --- | --- |
| RBC | 1.2921* | 1.2244* | 5.4% |
| TD | 1.3064 | 1.2196 | 6.9% |
| Scotiabank | 1.3025 | 1.2335 | 5.4% |
| BMO | 1.2997 | 1.2354 | 5.1% |
| National Bank | 1.3030 | 1.2310 | 5.7% |
*Non-cash rate
Note: A snapshot of published USD/CAD exchange rates on May 31, 2022
In this snapshot of published rates, TD had the highest USD/CAD spread at 6.9%, while BMO had the lowest spread at 5.1%.
If you only either purchased or sold USD, you might decide to compare the exchange rate given with the mid-market rate. This will show the mark-up that the bank is charging over the current market rate.
Ways to Exchange Currency
Besides the major banks, there are other ways to exchange currencies in Canada. This includes foreign exchange companies, online currency exchanges, and forex brokers.

Western Union
Western Union is a financial services company that specializes in letting users transfer money internationally. They are not a bank, but their foreign exchange services are similar to the ones offered by the major banks. Western Union's exchange rates are usually better than the banks, but there may be fees that can make certain transfers more expensive. Western Union mainly acts as an intermediary and they do not perform the functions of a conventional bank. However, they have many locations where you can receive payments in cash. You also do not need to open a bank account to exchange currencies.
When sending money using Western Union, your receiver will get cash in their local currency that they can pick up from Western Union agent locations. You can also send the money to their bank account. Since they will receive money in their local currency, the money that you send will be converted. When creating your transfer, you will be given a guaranteed rate. This is the exchange rate that Western Union is offering to you. You'll also be charged other transfer fees depending on your payment method and how the recipient will receive their money.
Western Union allows you to pay for your transfer in three ways: with credit/debit cards, using your bank account, or paying cash in-store. The available payment options will vary depending on the amount of the transfer. For example, a $999 CAD payment by credit or debit card would incur $25 in fees but can be completed in minutes. Going to a Western Union agent location to pay cash would cost $7 in fees, with the benefit of the transaction also being completed in minutes. Paying using your bank account would cost $8 in fees, but it would take 7-10 business days.
Besides the transfer fee, the exchange rate offered will also depend on your payment method. This may add additional costs to your transfer. The USD/CAD buying rate offered for a $999 bank account transfer is 1.3574. Paying by cash in-store gives a slightly higher USD/CAD rate of 1.3580. Interestingly enough, paying with a credit card or a debit card gives a much lower USD/CAD rate of 1.2977. That means that paying with cash or a bank account would cost 4.5% more than paying with your credit card. However, using your credit card to make a Western Union payment may result in a cash advance fee and a higher cash advance interest rate for that transaction. You can avoid this by paying with your debit card.
Western Union Exchange Rates and Limits
| | | |
| --- | --- | --- |
| Credit Card/Debit Card | 1.2977 | $5,000 CAD |
| Cash In-Store | 1.3580 | $7,500 CAD |
| Bank Account | 1.3574 | $999 CAD |
Note: A snapshot of Western Union rates and limits, collected on May 31, 2022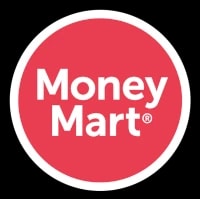 Money Mart
Money Mart has more than 500 locations across Canada and offers financial services such as payday loans, cheque cashing, and currency exchange. One unique feature is Money Mart's Buy Back Guarantee, which allows you to sell back your unused exchange funds at the same rate that you purchased them from Money Mart. This guarantee is only available for U.S. Dollars and Euros. You'll also need to pay a fee of $4.99 to get this guarantee. Money Mart also charges a $3.49 fee for every currency exchange transaction.

MoneyGram
MoneyGram allows you to send up to $990 CAD every 30 days. You can pay for your transfer using a debit/credit card, with Interac Online, or by paying cash in-store. You can save on your payment fees by joining MoneyGram Plus Rewards. Signing up gives you 20% off the fee of your second money transfer, while you get 40% off the fee of every 5th transfer that you make. While you can send money at a physical store, you can also send money online or with the MoneyGram mobile app.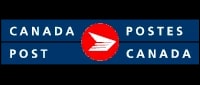 Canada Post Foreign Cash
With Canada Post Foreign Cash, you can purchase foreign currencies with CIBC and get foreign cash delivered to you with Canada Post Xpresspost, or pick it up at a post office. You can also choose the mix of denominations, such as large or small denominations. You can only use Visa Debit or Interac Online to purchase foreign cash with Canada Post. There's also a maximum order limit of $2,500 CAD every 30 days.
Exchange Rates for Tax Purposes
If you have income or deductions in a foreign currency, you will need to convert them to Canadian dollars when reporting them in your income tax return. The exchange rate that you will use is the Bank of Canada's exchange rate for the day of the transaction. You are allowed to use the average annual exchange rate published by the Bank of Canada if you have multiple transactions in the same year.
Exchanging Currency Online
Online currency exchanges are not banks or financial institutions. They transfer funds between two bank accounts in different currencies. This means that you will need to have separate bank accounts in both currencies. Some services, like Wise, have accounts where you can store, transfer, and receive currencies from different countries.
Online currency exchanges will often give you a discount on the exchange rate margin if you exchange currency in larger quantities.
Should I Exchange Currency Online?
| Advantages | Disadvantages |
| --- | --- |
| Better Rates: These online currency exchanges will often have lower exchange fees than banks. You may receive a discount on the exchange rate margin if you exchange currency in larger quantities. Some may even claim to offer the mid-market rate to you. | ID Verification: If this is your first transaction with a certain exchange, you will be required to verify your identity to them by providing ID. It may also include providing proof of address and a selfie with your documents. This can be inconvenient and delay your transaction. |
| No Deposit Required: You only need to sign up as a user and connect your existing bank accounts to use an online currency exchange. On the other hand, banks will typically require you to have a bank account with them before you can use their currency exchange services. | Link Your Bank Account: To use any of these services, you will have to link existing bank accounts that you have with a bank. This allows the business to receive money from your bank that can be converted into another currency. You may also be required to verify your identity by providing a government ID. |
| Global: You can exchange your money anywhere in the world without needing to visit a physical branch. | Online Only: Since these exchanges operate online, you won't be able to visit a physical location to pick up cash or exchange currencies through an ATM. |
Top Currency Exchange Websites

Wise
Formerly called TransferWise, Wise allows you to send, hold, and receive money in multiple currencies. Wise gives you the true mid-market rate, and makes their fees transparent. With a Wise multi-currency account, you get a local bank account where you can receive money. For example, you'll receive an American bank account for a Wise multi-currency USD account. This allows you to receive ACH and domestic payments. With an EUR account, you can receive SEPA transfers. This makes it easy to receive local transfers. You can then hold that currency or convert it to another currency.
Wise charges a variable fee to convert currencies in your account. This fee is on top of the mid-market rate, which means that the rate that you get will be the real exchange rate with no margins baked in. For example, on May 31, 2022, Wise charged a variable fee of 0.42% to convert USD to CAD. This fee did not change based on the amount being converted. A $100 USD transfer to CAD was charged a 0.42% fee, while a $100,000 transfer was also charged a 0.42% fee.
Sending transfers with Wise lets you send money in CAD and have it exchanged to the recipient's local currency. You'll receive a guaranteed exchange rate that is locked in for up to 48 hours, and you can pay by debit card, credit card, bill payment, wire transfer, or from your bank account. The following table gives an example of fees that Wise charges for various payment methods.
Example of Wise Fees by Payment Method
| | | |
| --- | --- | --- |
| Direct Debit (Bank) | $0.25 | $2.49 |
| Debit Card | $1.64 | $16.43 |
| Credit Card | $2.33 | $23.34 |
| Wire Transfer | $0.95 | $0.95 |
| Bill Payment | $0.95 | $0.95 |
Note: Values were collected on May 31, 2022, in Canadian Dollars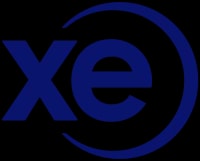 XE
XE is a Canadian company that has grown to become one of the most popular currency converters in the world. XE supports 139 currencies. Money transfers with XE.com are free if you send more than $500 CAD. If you send less, you will be charged an additional fee of $3 CAD. XE does not offer mid-market rates, which means that while you won't be directly shown the fee amount that you will be paying, you will be paying a spread.
Canadians can pay for their transfer with a direct debit (EFT), credit card, debit card, bill payment, or Interac e-Transfer. An unique feature of XE are their forward contracts. This allows you to lock-in a rate today for a transfer that will be sent in the future. Another feature are market orders, where you select a rate that you want and wait until the market exchange rate reaches your desired rate. A market order with XE allows you to wait until a better rate is available. This can save you money if your transfer isn't time-sensitive. Market orders will expire after 12 months.
If you use the Xe app, you'll be able to select cash pickup. The recipient will be able to pick up the exchanged cash upon providing ID and a generated PIN. Xe boasts over 500,000 locations where recipients can pick up their cash around the world. The maximum that can be sent for cash pickup is $3,000 CAD for Canadians.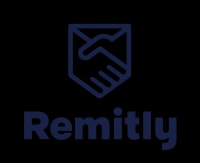 Remitly
Remitly was created to help immigrants send money back to their home countries. While you can't use Remitly to send money to the United States, you can send money to Remitly can also be used beyond remitting, such as for travellers looking to exchange money abroad. You can also send USD to some countries with Remitly. Two payment methods are accepted: bank account or a debit/credit card. It takes 3-5 business days for a transfer to be completed if you pay using a bank account. Paying with a debit card or credit card allows your payment to be sent in minutes.

World Remit
WorldRemit supports 70 currencies and allows money to be sent to 130 countries. Recipients can get their money through bank transfer, cash pickup, mobile money accounts, and even mobile airtime top ups. WorldRemit claims that 95% of cash pickups are available within 3 minutes, while bank transfers are delivered the same day.

OFX
OFX is an Australian-based company that supports 50 currencies. Only electronic bank transfers can be used as payments, which differs from other online currency converters which accept credit cards. Similar to XE.com, you can lock-in a currency exchange rate for up to 12 months. OFX is also similar to Wise with their Global Currency Account. This allows online sellers and business owners to receive funds from online marketplaces and convert it back to their home currency.

PayPal
PayPal allows you to pay in a different currency, however, they charge a significant currency conversion spread. If you pay for a good or service in another currency, you will be charged a 4% currency conversion spread. That's higher than the fee charged by most credit cards for purchases in a foreign currency. This 4% fee also applies if you send money to someone in a different currency.
Foreign Exchange (FX) for Trading
If you have a CAD-denominated trading or investment account, all of your trades will be conducted in CAD. If you buy or sell foreign-listed stocks, you may be charged a foreign conversion fee when changing CAD to and from another currency. This can happen when buying or selling US-listed stocks. Some stocks listed on the Toronto Stock Exchange (TSX) can also be denominated in USD and be subject to conversion fees. The list below shows the currency conversion fees for popular trading and investment brokerages in Canada.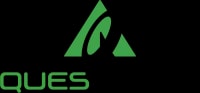 Questrade: FX Fee of 1.5% - 2%
Questrade charges a fee of 175 basis points for converting between Canadian Dollars and U.S. Dollars. That works out to be 0.0175. This means that if the current USD/CAD rate is 1.30, then you will buy USD at 1.3175 and sell USD at 1.2825. In this example, that works out to be a 1.35% fee in each direction. A round-trip transaction, where you buy USD and then sell USD back to CAD, would have a total fee of 2.7%. This forex fee can quickly add up if you frequently buy and sell U.S. stocks but your investment account's currency is in Canadian Dollars.
Questrade allows users to hold both CAD and USD in their non-registered and registered accounts. This means that you can hold USD in your RRSPs and TFSAs as cash, and use it to purchase U.S. stocks. This means that you only have to pay the currency exchange fee when you run out of the proper currency. If you have enough USD in your account when buying a U.S. security, you will not be charged a currency exchange fee.
You can choose how currency is settled in your account. For example, if you choose your currency settlement to be in USD, then all funds and proceeds, including dividends and cash, will be automatically converted to USD. If you hold USD stocks, you may want to choose your currency settlement to be in USD to avoid currency conversion fees.
Wealthsimple: FX Fee of 1.5%
Wealthsimple charges a 1.5% currency conversion fee for every U.S Dollar trade that you make from your CAD account. In late 2021, Wealthsimple introduced the Plus subscription which allows you to have a USD account. Plus replaces Wealthsimple's Trade Premium subscription. While you will still have to pay the 1.5% fx fee to convert your CAD deposit to USD, once the USD is in your account, you can use it to make trades with no fx-fee. Wealthsimple's Plus subscription costs $10 per month.

Interactive Brokers: FX Fee of 0.002%
Interactive Brokers charges some of the lowest conversion fees as currency conversions are treated as spot forex trades. The commission is 0.20 basis points, which is 0.002%, with a minimum fee of $2 USD. For example, converting $100,000 would cost only $2 in commissions, and you'll receive the spot forex rate. You can also trade currencies with Interactive Brokers' forex trading platform.
Best Mortgage Rates in Canada
Other Ways to Exchange Currency
When you are traveling abroad and in need of quick cash, there are other methods of exchanging currency. These methods typically have higher exchange rates, so you should only use them if needed.
Credit Cards
When using your credit card internationally, the credit card company will automatically apply a foreign transaction fee. In Canada, this usually is 2.5% of the total transaction, however, this fee can vary between banks and credit card companies. Some credit cards even waive the foreign transaction fee and the ATM fee.
Before using your credit card internationally, contact your card issuer to let them know you are traveling and ask if there are any restrictions on international use. Using your credit card instead means you won't have to re-exchange your remaining cash after your trip and you will have a payment method readily available at all times. You may even want to get a credit card in the currency of the country you are visiting and then pay it off by exchanging currency after your trip. Another option is to get a prepaid card and load it with your desired foreign currency.
Visa vs. Mastercard Exchange Rates
According to Greedyrates, Mastercard usually has a better exchange rate than Visa. This means that you might be paying slightly more on foreign purchases with a Visa credit card. One way to see this in action is to look at historical exchange rates published by Visa and Mastercard. These are the rates that would apply to your transaction. The rate that applies would be the rate on the date that the transaction was processed, which might not be the date of the transaction.
Let's take a look at the published rates for May 31, 2022 for someone with a CAD credit card that is looking to purchase an item in USD. Visa's USD/CAD rate is 1.2786. Mastercard's USD/CAD rate is 1.26892. In this example, the difference between Visa and Mastercard's exchange rate was 0.76%.
The table below shows an example of the difference between Visa and Mastercard exchange rates for the week of May 23, 2022 to May 29, 2022. Rates for May 28 and May 29 remained unchanged due to the weekend.
While the difference between Visa and Mastercard ranged between 0.05% to 0.47%, what wasn't consistent was which card had the better rate. Out of this sample week, Mastercard had the better rate for three days out of seven. Visa had a better rate for four days out of seven. However, when Mastercard had a better rate, that rate was significantly better compared to when Visa had a better rate.
| | | | |
| --- | --- | --- | --- |
| May 23, 2022 | 1.2871 | 1.2850 | 0.16% |
| May 24, 2022 | 1.2862 | 1.2875 | 0.10% |
| May 25, 2022 | 1.2876 | 1.2887 | 0.08% |
| May 26, 2022 | 1.2888 | 1.2854 | 0.26% |
| May 27, 2022 | 1.2852 | 1.2792 | 0.47% |
| May 28, 2022 | 1.2786 | 1.2792 | 0.05% |
| May 29, 2022 | 1.2786 | 1.2792 | 0.05% |
No Foreign Transaction Fee Credit Cards
Although rare, there are a few credit cards in Canada that feature no foreign transaction fees. This includes the Scotiabank Gold American Express Card, the Brim Mastercard, and the HSBC World Elite Mastercard. Another option is the Rogers World Elite Mastercard. While it does charge a 2.5% foreign transaction fee, it gives 3.0% cashback on U.S. Dollar purchases. This effectively cancels out the forex fee.
Wise, one of the currency conversion services listed on this page, also offers a prepaid card. The Wise Multi-Currency Card can be loaded with foreign currencies. You'll also be able to use Wise's mid-market rates and low fees to load your Wise Card. Other prepaid cards that can be loaded with a foreign currency include the CIBC Smart Prepaid Travel Visa Card, the Canada Post Cash Passport Mastercard, and the CIBC Air Canada Conversion Visa Prepaid Card.
Currency Exchange Boutiques
Small currency exchange boutiques allow you to exchange cash on the spot. These stores will usually have large exchange fees, so try to avoid them and use a bank if you can. However, if there are no banks or bank ATMs nearby, these stores are very convenient. Sometimes, currency exchange stores will operate under a larger brand. You can research the companies that own these stores before traveling to understand their fees and locations.
International Currency Exchange (ICE) is a common provider at airports in Canada. The airports that ICE has locations in include Calgary, Edmonton, Vancouver, Victoria, Toronto Pearson, Ottawa, and Montreal. ICE charges a fee of $9.95 at airports. You can pay using a credit card, debit card, or cash.
ICE's exchange rates can have a significant spread. On June 1, 2022, ICE's USD/CAD exchange rate was 1.325662 for buying and 1.224659 for selling. That's equal to a 7.9% spread.
Airport ATMs or Kiosks
ICE also operates U.S. currency and multi-currency ATMs at some Canadian airports. Other airport ATMs and currency exchange kiosks are also available. You should only use airport ATMs as a last resort. They will charge you much higher rates than banks and bank ATMs. Airport ATMs will charge a flat fee of $5 - $15 and an additional foreign exchange spread of about 7% - 20%. For reference, Canadian banks charge about a 5.4% spread on average. If you have the time, it is always worth the time to look for other methods of exchanging currency. Throughout your trip, this could end up saving you hundreds of dollars.
The calculators and content on this page are provided for general information purposes only. WOWA does not guarantee the accuracy of information shown and is not responsible for any consequences of the use of the calculator.